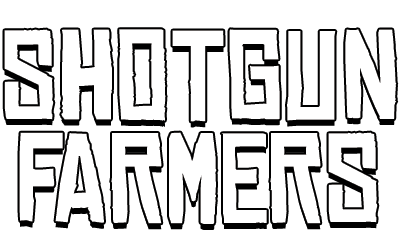 Shotgun Farmers
A downloadable game for Windows, macOS, and Linux
Shotgun Farmers is out on Steam Early Access
Shotgun Farmers is the Online Multiplayer shooter where your bullets grow the guns. Harvest weapon plants quickly for more ammo or let them grow for a larger clip. Aim carefully, as a missed shot means you've just gifted your enemy with the gun you're using!

This game is being developer every day by creator Wase Qazi live at http://twitch.tv/qazitv
Online Multiplayer Shooter for up to 12 players!
Fight with 4 different vegetable based weapons, with more on the way.
Customize your farmer with unlockable hairstyles, beards, and hats!
Play 4 different game modes, each with its own twist on farming.
Battle across 3 different farms, with more on the way.
Customizable room options and password protected games.

Weapon plants grow from the bullets that hit the ground. The longer a plant grows, the more ammo it will have.
Since Day 1, Shotgun Farmers has been developed live on Twitch with ideas and feedback from the community. Join us on stream at: twitch.tv/qazitv

The core gameplay mechanics and system are complete. From here on out I will be working on additional weapons (like grenades!), new maps, and finishing the game modes.

Shotgun Farmers will be available on all 3 platforms!

I would love to translate Shotgun Farmers to as many languages as possible. If you would like to contribute please let me know in the comments!

Wase Qazi does all of the art and programming. The music is composed by Julian Shanahan.
Download
This game is currently unavailable