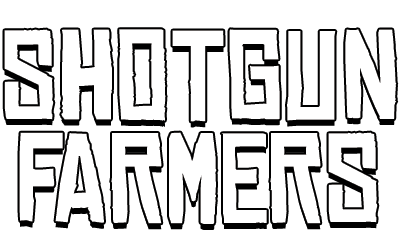 Shotgun Farmers
A downloadable game for Windows, macOS, and Linux
**Please note these are the Private Alpha Servers, meaning there aren't people playing all the time!**
Shotgun Farmers is an Online Multiplayer shooter where your bullets grow the guns. Harvest weapon plants quickly for more ammo or let them grow for a stronger clip. Aim carefully, as a missed shot means you've just gifted your enemy with the gun you're using!
This game is still in Alpha and is being worked on every day by solo developer Wase Qazi live at http://twitch.tv/qazitv
Online Multiplayer Shooter for up to 16 players!
Fight with 4 different vegetable based weapons, with more on the way.
Customize your farmer with unlockable player skins, weapon skins, hairstyles, beards, and hats!
Play 5 different game modes, each with its own twist on farming.
Battle in 4 farm environments across 8 maps.
Customizable room options and password protected games.

Weapon plants grow from the bullets that hit the ground. The longer a plant grows, the more ammo it will have.

Your trusty weapon, with a powerful blast radius and a maximum of 8 ammo at full growth.

Head shot the enemy farmers one by one from the highest silo! 4 shots at full growth.

These carrots are no joke! You only get 2 shots at full growth, but the explosion is sure to destroy anyone around you. I wonder what happens if you shoot at your own feet..?

The fastest firing vegetable with 12 shots at full growth. Use the pea-stol to rip through your enemies, or shoot at your teammates to heal them!
Even when you're out of ammo you'll always have your trusty shovel. Of course, you run faster when you're holding it.

Score points by killing the other team. The team with the most points at the end of the match wins.
These hay stacks ain't gonna move themselves! Deliver the truck of hay across the map while the other team tries to stop you.
Sneak onto the other team's farm to steal their prized sheep and bring it back to your farm to score points!

Hide the self-detonating watermelon around the enemy farm and keep the other team from finding and destroying it!

One team plays as the elusive hens, who's only solace is the designated safe zone. The farmers kill any hen caught outside!
Since Day 1, Shotgun Farmers has been developed live on Twitch with ideas and feedback from the community. Join us on stream at: twitch.tv/qazitv

The core gameplay mechanics and system are complete. From here on out I will be working on additional weapons (like grenades!), new maps, and finishing the game modes.

Shotgun Farmers will be available on all 3 platforms!

I would love to translate Shotgun Farmers to as many languages as possible. If you would like to contribute please let me know in the comments!

Wase Qazi does all of the art and programming. The music is composed by Julian Shanahan.
Download
Click download now to get access to the following files:
Shotgun Farmers for Windows
Version 0.7.97.0
229 MB
Shotgun Farmers for Mac
Version 0.7.97.0
233 MB
Shotgun Farmers for Linux
Version 0.7.97.0
249 MB